Should Silver be Part of Your Portfolio?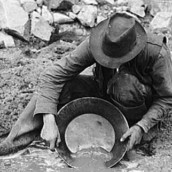 If you've ever seen the Discovery Channel's show Gold Rush Alaska, you know that gold is worth something. Why else would grown men give up everything they own to brave the Alaskan wilderness, the troubles associated with gold mining, the long days and the hard work? They're betting their lives that they'll quite literally strike gold and become rich.
The show may be entertaining, but not many people would give life and limb to make such a risky investment. I know I wouldn't. Fortunately, there is a way to take advantage of gold rush fever without suffering terrible consequences: invest in precious metals. Unsure what this entails? Let's take a look.
Why Would I Want to Invest in Precious Metals?
The first thing we should look at is why anyone would want to invest in precious metals. Basically, it boils down to safety; precious metal investments have historically been safer than other investments, like stocks, but offer somewhat high returns. Also, precious metal investments have become easier, with a few options to choose from.
One of the investment options is purchasing gold bars or coins. These physical forms of precious metals are called bullion, and they do take a little extra time and money to care for and protect. For that reason, many investors choose to purchase precious metals on the stock market. Here, the safety is
pretty high and the returns are similar (minus investment fees, of course).
Silver or Gold
The next question that comes to mind once you decide to invest in precious metals is whether to invest in silver or gold. To answer this, we must turn to the market. In 2010, the value of silver rose 80% as compared to gold's rise of 29%. However, 2011 was not the best year for silver, with the precious metal slumping overall 10.7%. Gold performed better, rounding out 2011 with a 9.3% increase.
However, even with the market showing a loss for silver in 2011, investment experts predict the precious metal may make a rebound in 2012 as governments print more silver-backed money, which will increase the value of silver. The same is not predicted for gold.
How to Add Precious Metals to my Portfolio
Precious metals are a rather simple investment. You may purchase the bullion through governments, coin shops or online vendors, but it is advised that you know your source well before purchase. For that reason, many people choose to purchase government-issued coins and bars. On the other hand, if you'd rather keep your precious metals in paper form, investing in the stock market can help you reach your goals. Exchange-traded funds (ETFs) are a great place to invest in silver in the market, so see your investment broker or online investment firm for details.
That's the basics of precious metals investments. Precious metals are relatively secure, investment options are available and silver is predicted to make a comeback. Now aren't you glad you don't have to travel to Alaska to mine for gold?