Idaho Silver Mine Closed By Federal Regulators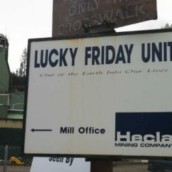 The Lucky Friday silver mine will face one year of closure after Federal regulators ordered it closed on Wednesday after an investigation. The investigation was triggered by the deaths of two workers in the mine. The regulators determined that concrete and sand had built up over the years and needed to be removed.
Hecla, the company that operated the mine, saw its shares drop by around 25 percent of their value. Said company President and Chief Executive Officer Phil Baker:
The Lucky Friday mine is a world-class mine that we see producing silver for decades to come. Hecla and the Lucky Friday mine have faced challenges in the past and we will once again overcome them.
The company also confirms that the closure of the mine will lead to at least 185 layoffs.