Greece's Effect on Silver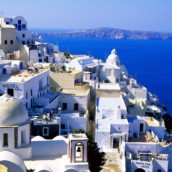 While Greece finds itself in hot financial water overseas, we can see the effects here in the United States, particularly on precious metals and especially on silver.
Over time, the Greek crisis has led to an initially proposed €3 trillion bailout, which will stress the financially stable countries like France and Germany. In response to the projected stressors on these stable European countries, the stock market overall has taken a dramatic hit. And silver is not immune.
The price of silver has been increasing from a low of $27.01 in early January 2012 to hover between $33 and $34 per ounce in February. When news of the Greek crisis hit, silver gently declined to just under $33 per ounce and refused to climb.
The most recent news about Greece, though, appears promising. Eurozone finance ministers have given Greece nine days beginning February 21 to meet a list of conditions. When conditions such as privatizing state-owned companies and penalizing tax collectors with poor performance are met, Greece will receive the €130 billion bailout.
The final agreement of a €130 billion bailout is great news for neighboring countries, and it seems that silver's stock price is celebrating. Silver finally broke the $33 stalemate to trend upward to $35.592. Additionally, future projections predict a continued rise over the course of the year.
As with any investment, however, it is wise to study multiple predictions and projections before purchasing, to diversify, and to truly understand the commodity you are purchasing.