Gold Bullion in Yuan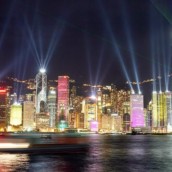 If you've had your eye on purchasing Hong Kong's currency in a golden form, your wait is over. Hong Kong's currency, the yaun (part of China's renminbi currency), has become very popular just as the bullion trading in Hong Kong's Chinese Gold & Silver Exchange Society has experience bolstered sales.
Chinese Vice Premier Li Keqiang began to support the yaun in August 2011. Previously, this year, the yaun bond sales have tripled, and yaun deposits have increased by 93%. The increase in the currency seems to be linked to a push in renminbi sales in Hong Kong.
Bullion trading has also increased, jumping more than HK $100 billion in one year. Gold has become a haven against the stock market, which has experienced many declines.
Together, the increased strength of the yaun with the hunger for gold leaves many Hong Kong investors clamoring for the new yaun bullion. Hong Kong's Chinese Gold & Silver Exchange Society president Haywood Cheung believes that the demand for the new bullion product is so large because of the gold bull market, the currency's appreciation, and hedge gold investments.
Should both the yaun and the gold continue their increases in value, the yaun bullion may be worthy of investment.